The United States Hemp Building Foundation, a non-profit organization based out of Columbus, Ohio is working to bring the future of construction to Alabama. Their mission? To provide low cost building materials for small business owners and entrepreneurs in need through their hemp industry. Some say this could be the beginning of nationwide cannabis legalization in America.
The "hempcrete" is a new construction material that uses hemp as its primary ingredient. The United States Hemp Building Foundation has brought the future of construction to Alabama.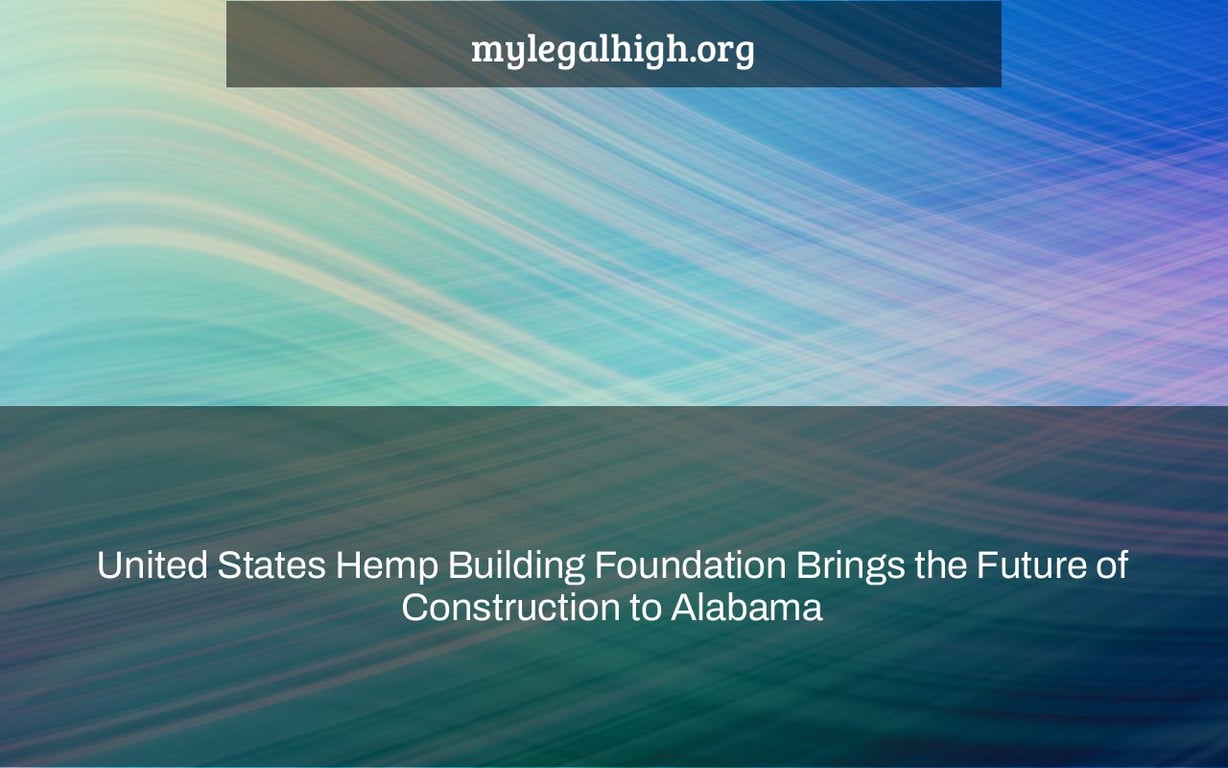 The hemp construction sector is ready to assume a leadership role as the world's attention turns to COP26 and the urgent need to take significant action to reduce our collective carbon footprint. The construction sector is responsible for 40% of the global carbon footprint. To continue to thrive as a society without harming the environment, high-performance sustainable construction materials are required. Construction using hemp-lime, or hempcrete, is emerging as a viable solution to this existential dilemma.
Many organizations are progressively promoting sustainable construction principles. The Ekvn-Yefolecv, an ecovillage of Indigenous Maskoke people who have returned after 180 years of displacement for the sake of language revitalization, regenerative agriculture, and natural construction, is one such community. Marcus Briggs-Cloud, co-director of Ekvn-Yefolecv, remarked, "We are committed to combining knowledge from our traditional Maskoke ecological worldview with new creative methods to regenerative lifeways that react to the climate problem and will assist us in navigating it. We are grateful for our collaboration with USHBF, HempStone, and BastCore in bringing this first hempcrete project to our historic homelands to fruition."
The US Hemp Construction Foundation (USHBF) was founded to assist in the funding of initiatives aimed at growing the hemp building sector in the United States. The workforce development program is one of their projects, and it aims to teach organizations in impoverished regions how to construct using hemp.
"We feel that developing an inclusive community in this expanding industry is vital," says Jacob Waddell, president of the USHBA.
The USHBF and Ekvn-Yefolecv have teamed together to teach members of the Ekvn-Yefolecv community how to construct using hemp-lime. Jennifer Martin, the founder and CEO of HempStone LLC, was called in to conduct the training.
"Ekvn-devotion Yefolecv's to finding local materials has surely advanced the business in the Southeast United States and paved the road for others to access local hempcrete materials in their area. Working with such smart, motivated, and creative individuals is an honor and a pleasure." Martin remarked.
To reduce their carbon impact and strategically grow the supply chain, the organizations collaborated with local supply chain partners. BastCore, situated in Montgomery, Alabama, is a pioneer in hemp processing advancements with ambitions to become a significant supplier of hemp hurd in the United States. BastCore provided the project with 6,000 pounds of hemp hurd. "We've been a long-time supporter of the USHBF and are delighted to be able to contribute our hemp hurd to this effort. The hemp construction industry's base is the development of a domestic supply chain. We fully support the workforce development initiative and are happy to see the market change to carbon-storing materials rather than conventional carbon-emitting materials "Austin Bryant, Managing Director of BastCore, said.
This study demonstrates how the construction industry can be transformed from a significant carbon emitter to one of the most inventive and influential industries for progress as we move toward a more sustainable future.