With cannabis legalization and the recent green rush, an entire industry has come to life. Yet many consumers are wary of buying from a business that's still under federal law due to possible legal ramifications. Houseplant seeks to address this problem by creating medical marijuana dispensaries with progressive branding strategies for an upscale clientele.
The "unique house plants" is a documentary that provides an inside look at the Houseplant headquarters.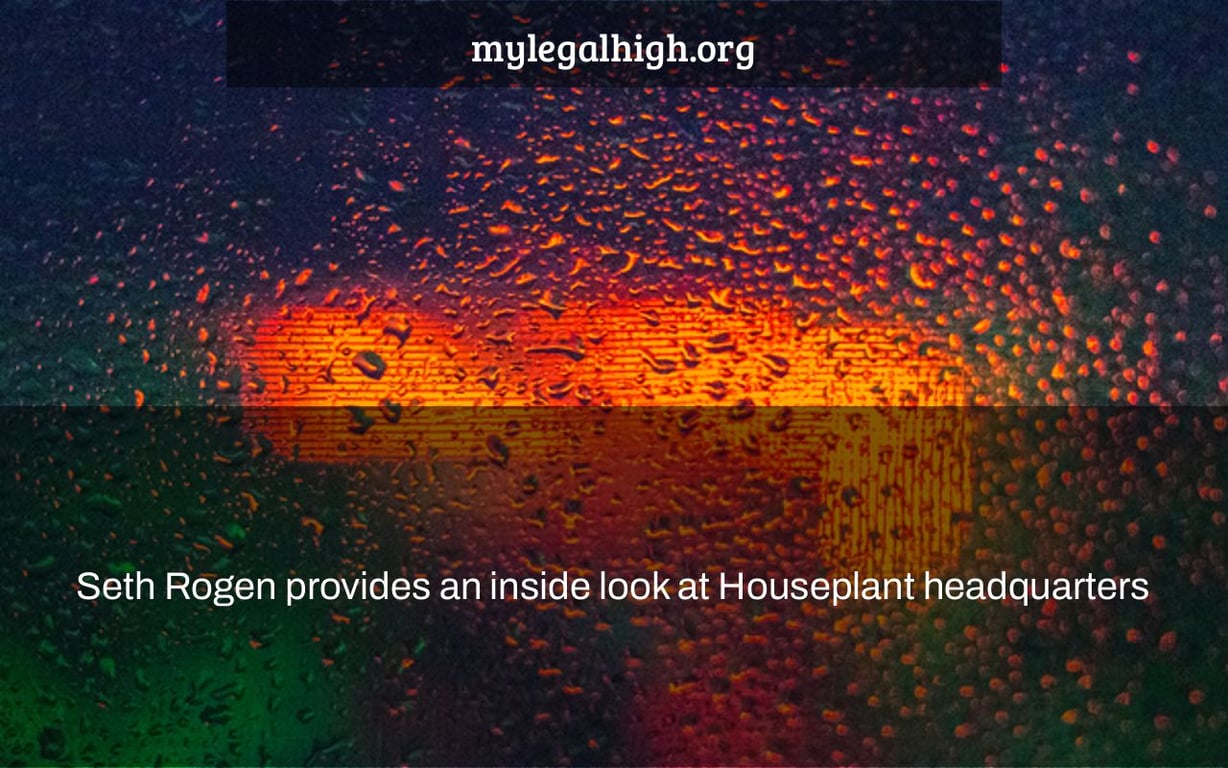 Architectural Digest was recently invited by Seth Rogen to take a tour of the Houseplant offices' interior décor and operations. Celebrities' personal living spaces are often featured in Architectural Digest, including Cara Delevingne, Serena Williams, Chelsea Handler, Neil Patrick Harris, and Binging with Babish, to mention a few.
The tour of Houseplant by Architectural Digest, which went online on April 27, is a bit different. It looks at the decor in both a residential and a commercial setting. Rogen and his business partner Evan Goldberg established Houseplant in 2019. Originally, they collaborated with Canopy Growth Corp. to operate only in Canada, but as of 2021, they will be based in California.
The company sells a line of cannabis that is presently only accessible in California, as well as a number of quirky and trendy home décor accessories including ashtrays, lighters, and even a lighter caddy shaped like Rogen's dog, Zelda, a Cavalier King Charles.
Houseplant's offices are in a Los Angeles home from 1918. "Mid-century modern-inspired furniture offers a warm yet minimalist design," according to Architectural Digest.
"I'll be honest, we didn't set out to make Houseplant out of a home, which is something you'd think we would've wanted from the start," Rogen told Architectural Digest.
"We started Houseplant, a cannabis and home products firm, and we needed a place to headquarter our operations, kind of like a workplace where folks could come hang out." We speak a lot about our products, and a lot of them are home items, so being able to see them in a home environment was quite helpful."
Rogen explained his motives for starting the Houseplant business, which are mirrored in the several goods on show in the house.
"We wanted it to be packaged in a unique and fascinating way," Rogen said.
"And as someone who smokes cannabis all day, every day, and wants their house to represent their sensibilities, who they are, and what they enjoy, I found myself really battling to furnish my home in a manner that complemented the fact that I consume pot all day, every day."
Many of the brand's unique items started at Houseplant HQ.
"It's just wonderful because we'd discuss all kinds of just… ways we could kind of communicate our love of cannabis in as many different ways as we possibly could," she says.
The team, for example, came up with the notion of creating custom vinyl soundtracks customized to certain cannabis session emotions.
He stated, "They're basically mixtapes that are created to fit the emotions of the various strains."
"So the Sativa album is all pretty happy music," says the narrator. And the music on the Indica album is all very, really, really mellow. And we choose all of the songs, which are fantastic and which I listen to on a regular basis. And they're absolutely amazing music mixes that genuinely fit the various sorts of marijuana."
One of Houseplant's most well-known products is ashtrays. The house is attractively decorated with a big collection of historic ashtrays that Rogen and his crew have utilized to replicate 1950s to 1970s design features. 
He demonstrated Houseplant's original ashtray idea, a "deep well ceramic ashtray with a notch."
"These are ashtrays modeled by ashtrays I constructed." "One of the first things I built was ashtrays, since they're not that complex, but also because I thought this was a design that would be fantastic but didn't actually exist," Rogen said.
"Basically, it's like a little cup with a notch in it." So I began creating them, and then we began mass-producing them, and now thousands of people own them, which is wonderful." He also noted that when they make prototypes, they prefer to test them for lengthy periods of time in the workplace, often for months at a time, to see whether they perform correctly.
"At Houseplant, we have one of the world's biggest antique ashtray collections. That being said, as I previously said, it is not something for which a lot of people are vying. You might, very rapidly, become the owner of one of the world's biggest antique ashtray collections from the comfort of your own home. But, for the time being, we have a lot of them, and we find them inspiring and enjoyable to be around."
With Rogen and Goldberg present, Rogen took the Architectural Digest video crew to an outside patio to meet Co-founder and CEO "Mikey" Michael Mohr, Co-Founder Alex Mcatee, and Caitlin Morris (whose function was not revealed). They made a short mention of cannabis-infused drinks, which are scheduled to be available in 2022. 
"Yeah, we've been working on drinks, formulating them, and developing them." And they're coming out later this year, and we're very thrilled about them," Mohr added.
"They're THC drinks with low and mid doses, effervescent flavored waters that taste fantastic." And there's no sugar or calories."
When Rogen was selected for this year's High Times 100, numerous things were taken into account, including his and his team's unique vision for Houseplant.
Related Tags
benefits of houseplants
pink houseplants