Germany legalized cannabis for medical purposes in 2017, but the new German government is planning to change that by legalizing recreational use. The move could be a major milestone for reform of marijuana laws across Europe.
The "decriminalized vs legal" is a question that has been on the minds of many people. The new German government plans to legalize recreational cannabis.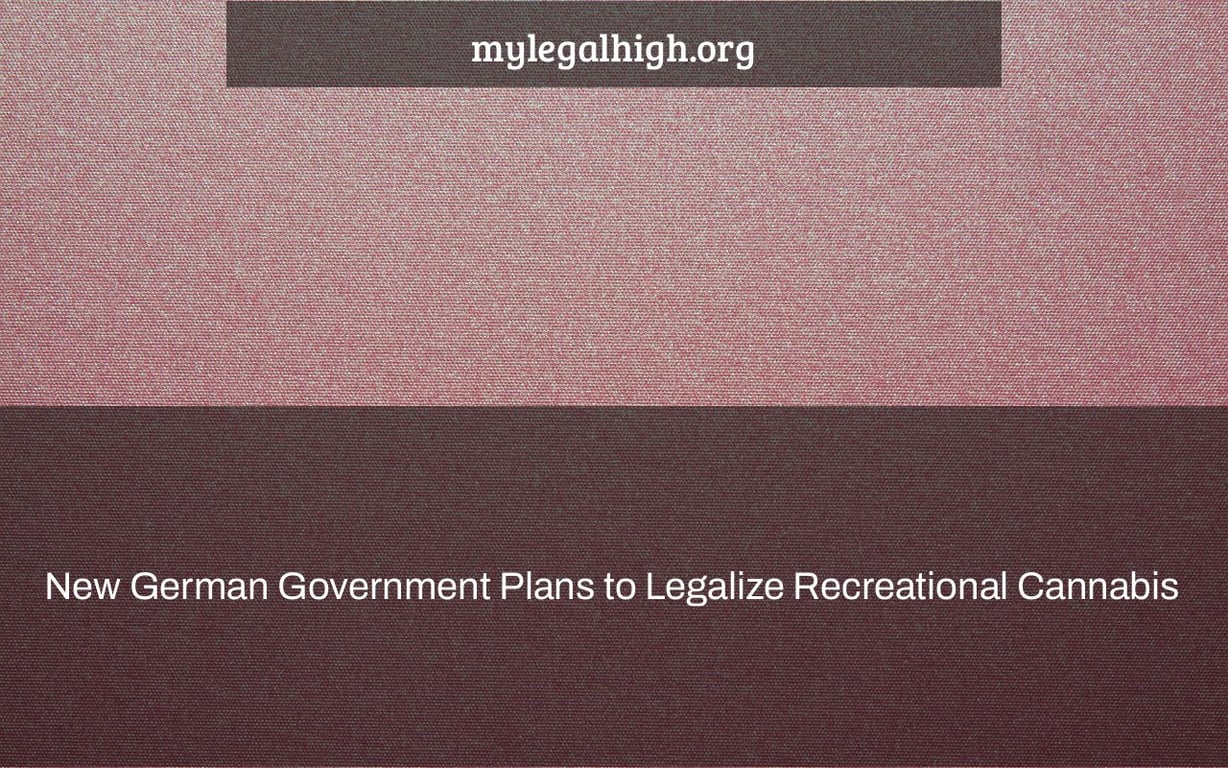 The new German administration pledges a new era, from speeding up coal phase-out to requiring electric cars to travel on German highways. The fact that the incoming administration has committed to legalize cannabis is among the new and soon-to-be-changing. The new coalition was sworn in just in time for Christmas, and it is already bringing joy to the country.
The German Government of the Future
The coalition, which includes the Green Party, the Liberal Free Democrats, and the Social Democrats, will succeed Chancellor Angela Merkel. This implies that, for the first time in history, the three will form a coalition to rule the nation. The coalition has secured an agreement on the selling of recreational cannabis in regulated stores after weeks of negotiations.
According to Politico, the alliance was formed on December 7, 2021 in Berlin, Germany. Olad Scholz, a Social Democrat, has taken over as chancellor and will oversee Europe's largest economy with a "16-strong Cabinet" that is "gender-balanced—eight males and eight women, excluding Scholz." Seven members of the Social Democrats, five members of the Green Party, and four members of the Free Democrats make up the 16-member Cabinet.
This new administration will not only pay greater attention to climate change, but it will also set an example for women's equality, all while giving some of its constituents what they want: legalized cannabis. The alliance, according to the BBC, seeks "a fairer, more liberal Germany that prioritizes combating climate change."
Unfortunately, people are split on the new government's goals, as seen by worries over marijuana legalization and physicians' ability to advertise abortion services. The coalition's other contentious policies include lowering the voting age from 18 to 16 and boosting immigration by making it easier to get German citizenship.
The Cannabis Industry in New Germany
According to Forbes, the new German government wants to utilize recreational cannabis legalization to "ensure quality control, restrict the distribution of tainted goods, and secure minors' safety." Strict controls and approved shops will be used to accomplish this.
Cannabis legalization may "create between 3.4 billion euros (3.8 billion dollars) and 4.7 billion euros (5.2 billion dollars) of yearly tax income, while also producing an estimated 27,000 new employment," according to Alexander Galista, an investment bank analyst at Hauck & Aufhauser. Galista mentions Canada as an example, explaining that the country's yearly income exceeds 2 billion euros and that it has significantly fewer residents than Germany.
While Galista's projections are already high, a research from the University of Düsseldorf shows that Germany's yearly tax collection might be in the billions of dollars. This is based on a plan to adequately regulate the cannabis industry, which includes a sales tax, additional social security payments, a wage tax, a business tax, and a trade tax, among other things. According to the analysis, legalizing cannabis would result in considerable cost reductions in law enforcement and the courts.
Dr. Justus Haucap, the director of DICE, says:
"The marijuana prohibition strategy has failed to reduce drug consumption. However, since cannabis intake may be damaging to one's health, the underground market should be regulated by the government. Regulation of the market improves consumer safety by ensuring the quality of cannabis, as well as making addiction prevention simpler and relieving the load on authorities and the state budget."
"The prohibition on cannabis is destructive and costly," says Georg Wurth, managing director of Demands DHV. "Billions are tossed out the window for pointless police operations." The funds would be better spent on education, prevention, and relief. "Legalization is long overdue!"
According to Germany's Federal Criminal Office, cannabis accounted for over 77 percent of all documented cannabis crimes in 2020, with the majority of these being for drug use rather than sale or production. Can you image how much money would be saved after customers are no longer prosecuted?
According to Forbes, despite the fact that the medical cannabis industry in Germany was just allowed in 2017, it has swiftly grown to become "the top European cannabis sector in terms of growth." The specifics of the new government's proposal to legalize cannabis, on the other hand, have yet to be revealed. For example, it is unknown if the government intends to allow civilians to produce cannabis and how much the government intends to tax sales.
Given the findings of a Bloomberg poll, it's understandable that there are reservations about the coalition's intentions to legalize cannabis. According to a study done by the German Hemp Association, 49 percent of respondents support cannabis legalization, while 46 percent remain opposed. According to Bloomberg, this is the first time in an annual survey since 2014 that more individuals are in support of legalizing.
According to Bloomberg, a final decision on cannabis legalization has not yet been made, but the coalition and its parties have been more open-minded about it than Merkel's Christian Democrats, who have ruled Germany since 2005.
The alliance is making a strong first impression with significant promises. According to the BBC, many people are concerned about how this new administration will be able to fund all of the reforms it desires. Perhaps they will be able to afford to take more dramatic measures in combating climate change with the money they save in law enforcement expenditures and income from the legalized cannabis industry.
"Germany was already straining to keep up in an increasingly computerized world," according to the BBC. Early in the epidemic, it was discovered that health officials were still coordinating through fax, and significant flaws in the education system were disclosed." These are legitimate concerns; nevertheless, if the new government's pledges are followed through on, they may outweigh them.
Chane Leigh, nicknamed The Bud Fairy, is a cannabis advocate and enthusiast from South Africa with a fiery personality and a desire to travel. She enjoys educating others and challenging social conventions.
Watch This Video-