Georgia's medical marijuana market has been marred by complaints of backroom deals and favoritism. Now, one company is suing for unfair treatment after being denied a license under unusual circumstances.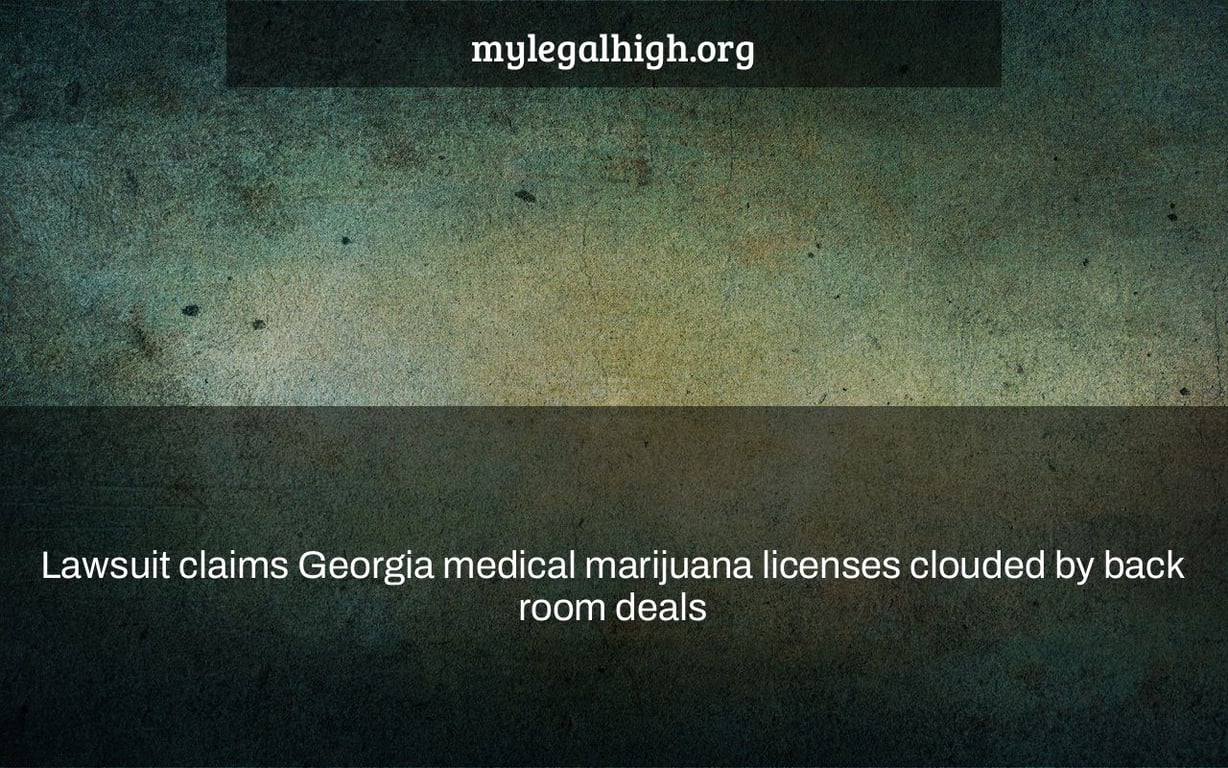 A medical marijuana firm has sued the Georgia Access to Medical Cannabis Commission, saying that "conflicts of interest" distorted the reviews and scoring of medical cannabis bid applications, and that licenses were "bought and sold via closed door politics and back room agreements."
"Why not release these applications, assessment sheets, and other documents out to the public if there is no wrongdoing or corruption?" questioned Cumberland Curative President Charlie Arnold.
Arnold feels his firm was robbed out of an honest opportunity to acquire one of Georgia's first medical marijuana cultivation and production licenses.
Cumberland Curative sued the Georgia Access to Medical Cannabis Commission in Fulton County Superior Court, arguing that "where there is smoke, there is fire."
According to the complaint, bid scoring was "clouded by serious conflict of interest," and licenses were "bought and sold via closed-door politics and back-room negotiations."
And the president of the Cumberland Curative says he can back it up.
"We learned in December of 2020, before the applications were due, from high-ranking public figures in both the Democratic and Republican parties, that four of the six licenses were already taken," Arnold stated. 
The FOX 5 I-Team has been investigating the issuance of medical marijuana licenses in Georgia for seven months, revealing three of the successful bidders' questionable business histories.
Thousands of pages of winning bids were deleted and kept hidden from losing bidders, the public, and the media, according to FOX 5.
The scoring of the winning bids, which was done by politically chosen commissioners, was also kept under wraps.
"I smell a rat in the woodpile," remarked State Representative Alan Powell, "this procedure was designed for chosen people."
Alan Powell, a Hartwell Republican, attempted to address what he perceived as fundamental flaws in the private bidding process by putting all firms challenging the bid awards on the list of successful bidders. 
"It's not ideal," said State Representative Bill Werkheiser, "but it's the greatest option I have right now."
Measure Werkheiser, a Republican from Glenville, sponsored a bill that would reject all of the bids and start again.
Both proposals were eventually defeated.
The successful bidders were still in business, despite their secret score assessments and extensively redacted submissions.
"It's ludicrous that the public has no idea who these teams are or how they're going to produce drugs," Arnold added. 
Arnold says that the difficulty is that the general public and patients are unaware of the winning bids.
His complaint contends that the Medical Cannabis Commission is breaking the law by keeping thousands of pages of winning bids and Cannabis Commission assessments hidden.
Since a notice of intent to award licenses has been issued, the complaint claims that all relevant papers in the bid process should now be open to anybody in the public – including patients – under existing state law.
"Parents are more interested than anyone else in who these people are. If someone is manufacturing medication for my kid, I'd want to know who they are and how they are generating it "Arnold said.