Kentucky Governor Matt Bevin has proposed a bill that would allow the state to license and regulate interstate cannabis sales. Kentucky is one of 32 states with legalized medical marijuana, but no legal framework for recreational pot. The new law could create some job opportunities in the hemp-based economy, as well as boosting tourism because of increased access to CBD products.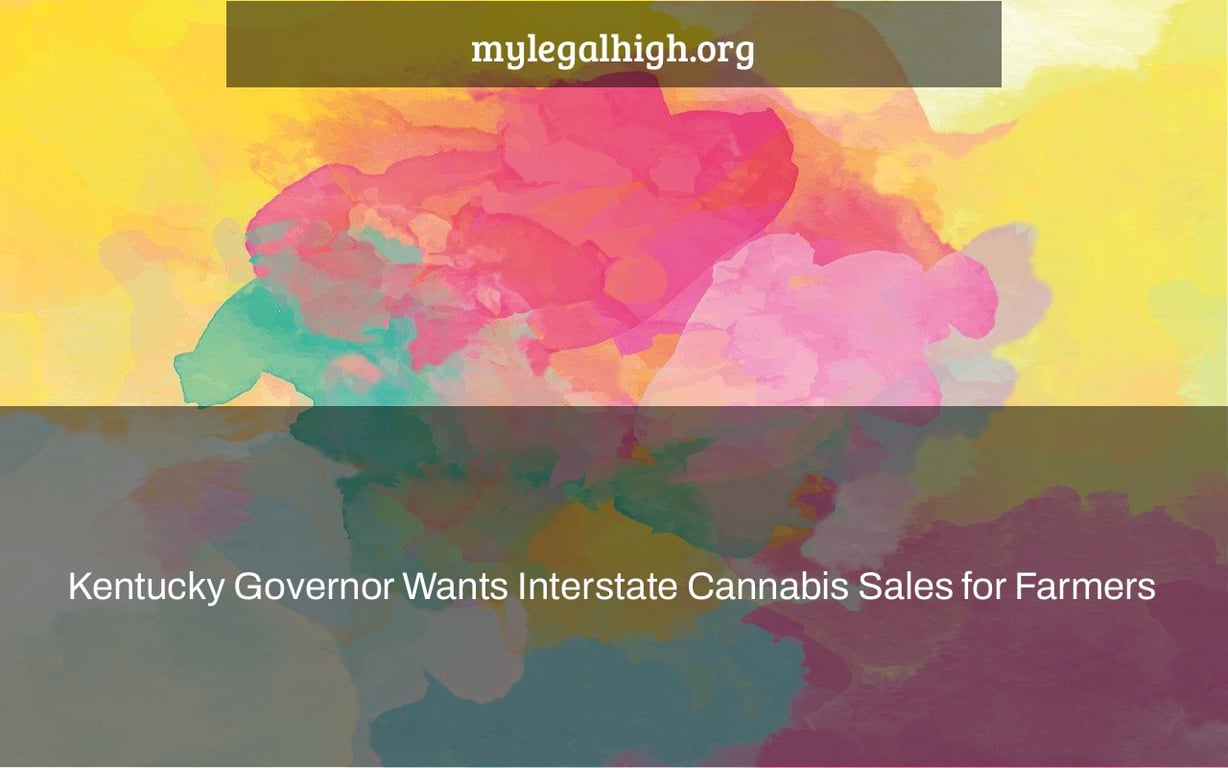 Soon, Kentucky may be known for more than simply bluegrass. Indeed, it may soon become known for its green grass, i.e., cannabis. Kentucky Governor Andy Beshear has high expectations for the state's forthcoming legislative session. Governor Beshear thinks that cannabis is the plant of the future, and he supports medicinal and recreational cannabis legalization movements. He's excited about the potential of allowing interstate cannabis sales to help his state's growers.
Governor Beshear announced his support for medicinal cannabis legalization and said that it will be a top priority in the next legislative session. The Governor didn't stop there in his support for cannabis legalization. Governor Beshear went on to say that individuals 21 and older should be able to possess and produce cannabis without a prescription.
"This is the future," Governor Beshear was reported as saying to media outlets. It's the direction things are heading. It's past time for us to follow the lead of so many other states and do the right thing." Governor Beshear called for legislators to adopt cannabis policy reform during a State of the Commonwealth speech in January 2021, stating that "it is past time" to legalize cannabis and that the plant itself "may give some solace for those who might otherwise resort to more destructive narcotics."
Just when you think American legislators aren't aware of the advantages that legalization may have on communities, people like Governor Andy Beshear assist to reassure you that there is still hope for them. "Kentucky and our topography, our farmers could benefit significantly from legalization of medicinal marijuana and then allowing them to grow medical marijuana for other states," Gov. Beshear told media sources, adding that Kentucky was in a unique position and situated to benefit from policy change and positive cannabis reform.
The Advantages of Legalizing Cannabis Sales Across State Lines
Governor Beshear is not referring to hemp, a kind of cannabis with minimal to no THC content. According to the 2018 Farm Bill, it is allowed to sell hemp across state boundaries. He is open to interstate cannabis sales, which may be very beneficial to Kentucky farmers, businesses, and consumers. Apart from the economic advantages, mandating a state to maintain all cannabis cultivation, sales, and processing inside its boundaries alone has ludicrous environmental consequences.
States with colder climes and harsher winters, such as Vermont and Massachusetts, are unable to grow cannabis outdoors. The bulk of their cultivation takes place inside, placing a burden on power and other resources. Outdoor cultivation, on the other hand, is possible almost all year in certain parts of California. It would make sense to cultivate cannabis in California and sell it elsewhere, similar to how other agricultural commodities are traded.
Oregon Governor Kate Brown, who signed a law in 2019 allowing Oregon to engage in the import and export of cannabis from other states if the federal government repealed marijuana prohibition, is another politician that supports interstate cannabis commerce. Governor Brown, like Governor Beshear, sees the economic and environmental advantages of allowing cannabis to be sold across state lines.
Cannabis Legalization and the End of Cannabis Incarceration
Governor Andy Beshear is talking about abolishing the barbaric practice of incarcerating individuals for cannabis possession in addition to cannabis legalization. The Governor spoke out in favor of legislation presented by Rep. Nima Kulkarni, demonstrating his support for the topic.
This bill would virtually prohibit anyone from being imprisoned for having cannabis in their hands. Despite the fact that Kentucky has no immediate intentions to legalize recreational cannabis, officials such as Governor Beshear continue to tout the advantages it may bring to farmers, towns, and the state as a whole.
Allowing interstate cannabis sales might open up huge prospects for areas like Kentucky, which has the right environment for cannabis cultivation. When grown correctly, cannabis may be incredibly medicinal and have a broad range of possible medical advantages.
Aside from cultivation, the drying and curing processes need meticulous attention to detail. When cannabis is done correctly, it shows from seed to sale. Unfortunately, cannabis that is grown to a high-quality level, as medicine should be, is prohibitively costly. Many individuals are denied access to potentially life-saving drugs due to financial or legal barriers.
In Kentucky, there is a lot of support for cannabis legalization.
Kentucky, like the rest of the country, deserves to be able to use cannabis legally. It's past time for a change, and Kentucky could just become a little bit greener in the not-too-distant future. Respondents in Kentucky have voiced support for legal cannabis access, with nine out of ten residents preferring medicinal marijuana legalization.
In Kentucky, 60% of people agree that cannabis should be legal in all circumstances. Those are fed up with empty promises and the continuous imprisonment of people accused of cannabis-related offenses. Those who reside in so-called prohibition states, in particular. Unfortunately, Kentucky, South Carolina, Tennessee, Georgia, North Carolina, Alabama, and a few more states remain stuck in the past when it comes to cannabis availability.
Politicians sometimes fail to reflect their citizens' shifting opinions regarding cannabis. However, because to officials like Governor Beshear's devotion, things are slowly but steadily changing. The economic, environmental, and social benefits of cannabis policy change are recognized by these lawmakers.
Whatever the case may be, it's wonderful to see the regulations governing this remarkable plant being changed. It's also incredible to see lawmakers not just speaking out in favour of change, but also bringing up important issues like interstate trade in the cannabis business.
Ashley Priest is a patient, mother, entrepreneur, and activist who is working to remove prohibition throughout the world for a brighter future for everyone. Ashley is passionate about spreading knowledge about the goddess plant known as cannabis. She thinks that a single seed can tilt the scales, and that by working together to eradicate the stigma around cannabis, we can help it reach its full potential internationally.
Watch This Video-