Mike Tyson has accepted to help the Malawi government develop their cannabis industry following years of failed attempts by western companies. The boxer will partner with local farmers and help educate people on how they can grow marijuana successfully.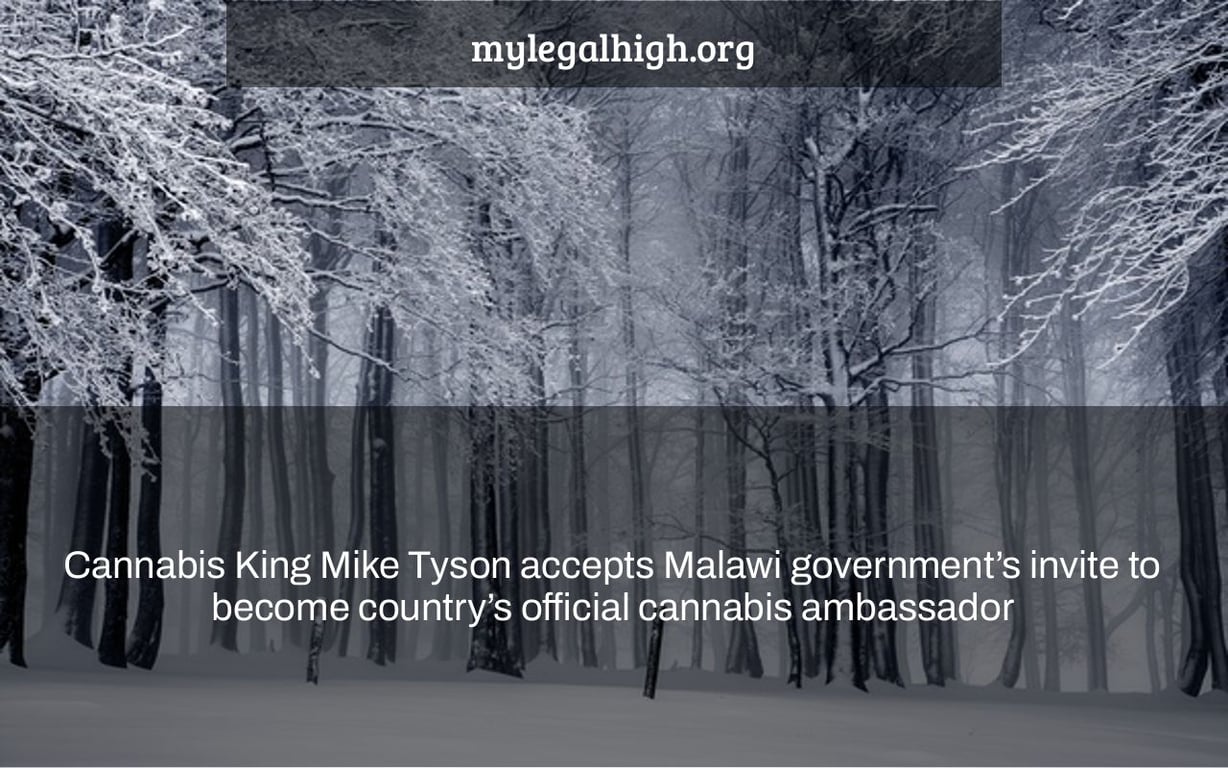 Mike Tyson has accepted Malawi's request to serve as the country's official cannabis ambassador.
Since 2016, Tyson Holistic, the 55-year-old former world heavyweight champion, has begun marketing cannabis products.
But now, after accepting the offer from Agriculture Minister Lobin Low, he is ready to become the face of the medicine in Malawi.
"Malawi may not be able to do it alone since the sector is complicated [and needs] teamwork," Low added.
"As a result, Mr Mike Tyson, I would like to nominate you as Malawi's Cannabis Branch ambassador."
The United States Cannabis Association is facilitating the trade, and Wezi Ngalamila, the director of the Malawi section, revealed to the BBC that Tyson had accepted the proposition.
Malawi is expecting that the move would "attract some investors and even purchasers."
Tyson has announced the formation of a new firm called Tyson 2.0.
"A step up from Iron Mike's previous cannabis company, providing a larger range of goods including everything from his personal favorite, flower, to concentrates, edibles, drinks, and pre-rolls," according to the press release.
Malawi, which grows a well-known strain of cannabis known as Malawi gold, legalized the use of cannabis for medical reasons last year, but recreational use remains prohibited.
The Centre for Public Accountability, a Malawian civil society organization, has criticized the nation for appointing Tyson as its cannabis ambassador.
This is due to the fact that he was convicted of rape in Indiana in 1992 and freed three years later.
"The CPA is unable to grasp why Malawi would choose a convicted rapist as its brand ambassador, particularly at this time when measures to combat violence against women are part of the government agenda," said Kondwani Munthali, interim director of the Centre for Public Accountability.
Tyson, 54, is said to make over £500,000 per month from his cannabis firm, which sells high-end marijuana strains, sweets, and extracts.
'Iron Mike' is also developing a 418-acre marijuana-themed vacation resort, which he hopes will include a music event to rival Coachella and the world's longest lazy river.
Aside from a fancy hotel and the allure of 'glamping' tents, there will be a Tyson University on site to train want tobe farmers about cannabis farming.
Last month, the ex-boxer told SunSport that he wanted cannabis to be legalized in the UK.
"Well, I'll tell you what, if it's legalized in the UK, you won't have to worry about all these prescription medications driving everyone insane and causing suicides and all that stuff," he remarked. That will come to an end right now.
"With the individuals from Great Britain getting an opportunity to engage in what we're doing right now, the miracle drug, half of it will be wiped out."
Watch This Video-