The emerging cannabis industry is facing a unique dilemma: how to generate revenue without turning users into customers. The answer in the digital world could be found with blockchain-powered games and new advertising opportunities that can lead to massive success for both players and providers alike.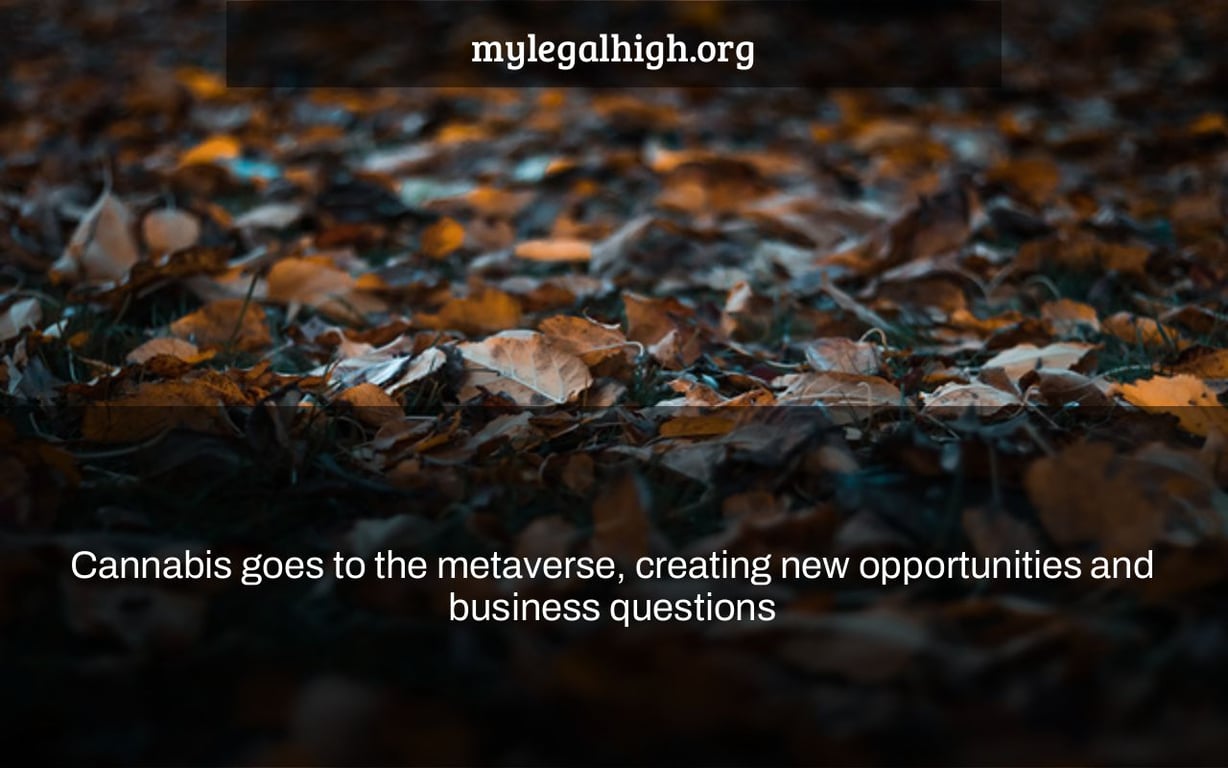 Residents of the Metaverse may now enter a cannabis shop and buy cannabis goods, following in the footsteps of Californians, Coloradoans, Arizonans, and Bay Staters.
Two cannabis companies have claimed their own Metaverse stores, where they will sell items to real-world locations throughout the United States. Higher Life CBD and Kandy Girl have each purchased a Metaverse property (in Cryptovoxels and Decentraland, respectively), where they are welcoming clients interested in buying both digital objects (such as NFTs and Metaverse wearables) and real-life cannabis products.
Moving into the Metaverse duplicates common commercial problems (real estate, personnel management, and customer interactions) while also introducing new legal gray areas, such as contradictory state and federal laws regulating the promotion, marketing, sale, and possession of marijuana products.
Higher Life CBD and Kandy Girl have both designed virtual dispensaries for their Metaverse stores. While Kandy Girl sells THC candies (containing of little more than.3% delta-9 THC produced from hemp), which are lawful under federal law, to get around state laws prohibiting the sale of cannabis, certain cannabis products are now only available in a few places.
Purchases of CBD are now confined to those seeking cannabis products in states where cannabis sales are illegal. However, as state and federal legislation gradually swings toward legalization, more states may become marketplaces for cannabis goods – and businesses that are already well-known to customers, whether digitally or otherwise, will have an edge if sales are permitted.
Cannabis businesses operating in the Metaverse may also leverage their digital shops to improve customer service. Expert budtenders, for example, may give prospective clients advise from anywhere in the globe and show them different products and strains that could fit their needs and budgets – all from the comfort of their own homes. Brands may also collect large quantities of data about their consumers and use that data to create new products that are tailored to their needs.
Through the power of the internet, the Metaverse may one day act as the great equalizer, allowing smaller local firms to compete with much larger national brands. Higher Life CBD is an Indiana corporation, and Kandy Girl is a Florida company, but they might be anyone's neighborhood dispensary in the Metaverse.
Now is a good moment for companies not yet in the Metaverse to consider extending beyond their local footprint and claiming their position in the digital marketplace. As huge corporations create the Metaverse, they will want to attract as many fresh eyes and money to spend as possible. With a unique Metaverse presence and open digital doors, those new clientele will be able to begin purchasing cannabis products online as soon as they are ready.
Cannabis enterprises should, however, evaluate the unique advertising and marketing rules of the states in which they operate before joining the Metaverse. Furthermore, they should carefully evaluate the specific terms of service or usage of the Metaverse in which they want to operate. Sandbox's Terms of Service, for example, prohibit users from "[p]romoting any illegal conduct or advocating, promoting, or assisting any criminal act," while Decentraland's Terms of Service state:  
"If your account is linked to fraud, criminality, or other issues, a decentralized autonomous organization (DAO) may suspend or ban your account."
Overall, although the Metaverse is an attractive location for cannabis businesses to operate, promote, and provide customer support, they should carefully analyze the legislative and operational climate of the Metaverse they want to operate in before starting a virtual shop.